DMC Global was scaling its business and needed to evolve its brand to attract the right portfolio companies and investors to partner with. BRINK collaborated with them to define and activate a strategy that would align brand, positioning, messaging, customer experience, and platform. Now, DMC has a new website that articulates a clear brand position to differentiate them from the competition, and they have the tools in place to develop and tell their story consistently as they grow.
We needed to reimagine our brand and website from the ground up, and we couldn't have done it without BRINK by our side. They helped to refine our positioning and differentiate us in the market thanks to an accessible website that speaks to our target customers. The best part is that they did so quickly and skillfully, with a laser focus on highlighting what was most important to us — our company values."
DMC Global
Vice President, Investor Relations and Corporate Communications
Messaging and positioning
Website Redesign And Build
Analytics setup and optimization
Voice and tone guidelines
Editorial style guidelines
Task and workstream management
Vendor management/collaboration
CLIENT
DMC Global is a publicly traded, diversified holding company based in Boulder, Colorado. They have built a portfolio of innovative, asset-light companies that provide differentiated products and services to niche segments of the energy, industrial, and building products markets.
The DMC Global brand and positioning were too closely connected with their portfolio companies. Their website did not tell a compelling story that would position DMC within their space while differentiating them from the competition. The website wasn't intuitive or easy to navigate, and there wasn't a clear storyline for each of their audience segments to follow. DMC needed a partner who could take them all the way from strategy and brand development to website content, design, and development with speed and skill.
Key Challenges
Translate the distinct DMC internal culture into a consistent audience-facing brand personality that connects customer experience to company growth
Develop a messaging and brand strategy to align the DMC company culture with their differentiated offering in the market
Develop a DMC Global brand that distinguishes them from their portfolio companies while also celebrating them and threading a connection among them all
Activate all of the above through a new website with a plan and a platform that will allow them to scale
DMC Global was referred to BRINK through one of our partners. Our shared cultural values, experience in the holding company space, interdisciplinary strategic approach, and extensive experience with brand positioning and website redesign made us the right fit for their needs.
A personal referral led us to work with BRINK, and we couldn't be happier with their team's expertise in the holding company space, brand development, and web design. When you combine that with their strategic interdisciplinary approach, you get an agency partner that is truly unique."
DMC Global
Vice President, Investor Relations and Corporate Communications
At BRINK, all clients benefit from executive accountability, authentic collaboration, and a talented team that truly immerses themselves in order to activate against growth goals with unparalleled creativity and efficiency.
The project began with a one-month discovery process. The BRINK team of user experience, visual design, and content and copy experts audited the competitive landscape, conducted interviews, and led workshops on customer segmentation, messaging, visual design, and voice and tone. The goal: to develop an integrated strategy that would deliver the right message to the right audience and position DMC Global within their industry, while differentiating them from the competition.
The discovery process revealed that the DMC cultural values of integrity, teamwork, courage, and humility are not only integral to their internal culture — they are also the key to their differentiated business model. BRINK's goal was simple: to deploy our interdisciplinary team of experts to bring the DMC values to life. This meant threading their values holistically through:
Brand voice
Strategic company positioning
Messaging architecture
Website architecture
User experience
Visual design
Translating Company Values into Clearly Crafted Business Messaging
At DMC, the cultural values of integrity, teamwork, courage, and humility form the foundation of their differentiated business model. BRINK channeled the DMC ethos into messaging that speaks directly to their two main audiences: portfolio companies and investors.

Portfolio companies are encouraged to take courageous and disruptive risks thanks to a unique DMC business model that leverages a long-term holding strategy supported by public equity: a freedom not possible when firms are beholden to servicing private debt and ensuring a quick and lucrative exit. As a publicly traded holding company, it was also important that DMC inspire confidence in investors.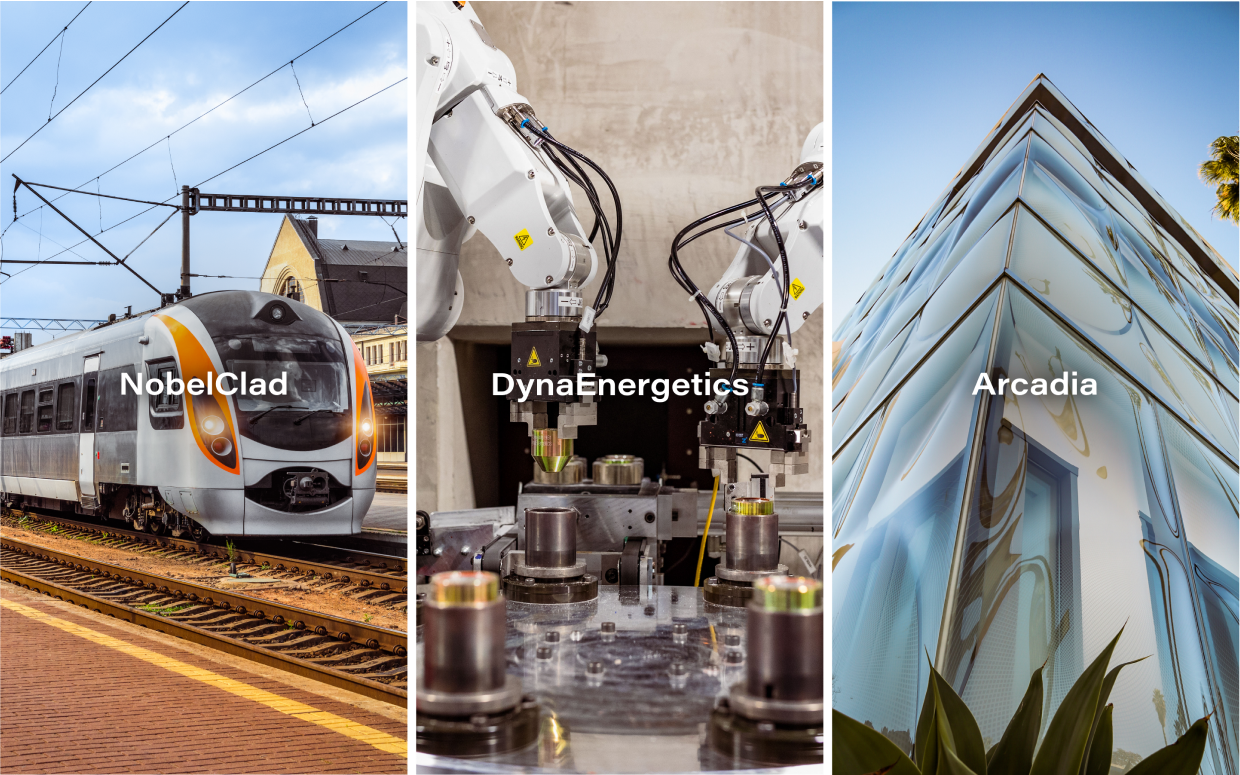 Content and visual design came together to bring the unique DMC positioning to life on a redesigned website. From voice and tone to strategic copy to visuals and typeface, BRINK wove each element into a cohesive whole that highlights DMC values and tells a clear and compelling story.
Go Beyond Growth —
Lead the Way
A new company slogan, "Go Beyond," captures the innovative spirit of DMC and speaks to the growth and progress they facilitate with their portfolio companies.
Headlines that speak to risk-taking, aspiration, and industry leadership are enhanced by a design that uses a canvas of clean whitespace and features images of the innovative products produced by DMC portfolio companies.

INTEGRITY, TEAMWORK, AND HUMILITY
Partnership That Goes Beyond
To think big and act boldly requires resources beyond the financial support portfolio companies traditionally receive from holding companies. The DMC values of integrity, teamwork, and humility are reflected in the genuine partnership and strategic and operational support they offer portfolio companies to enable them to act boldly.
The new website features employee quotes, thoughtfully crafted copy, and photography that demonstrate the heart of DMC and the company's foundation for innovation — people in partnership.
Long-Term Performance That Goes Beyond
Long-Term Performance That Goes Beyond The website now includes moments that matter to investors. BRINK worked with a third-party communications platform to add real-time market data and content for investors, and new messaging connects the DMC business model to superior returns. A newly refined color palette and elegant aesthetic serve to evoke luxury and an aspirational state of mind.
Technology and Brand Management
The new DMC website is built on the Sitecore platform to scale across all their portfolio companies and position their website for future growth.

To support consistent messaging and branding across all company assets as they scale, BRINK developed formal guidelines to help anyone at DMC develop on-brand written content and visual assets. We configured the guides on a searchable, cloud-based platform for seamless company-wide access.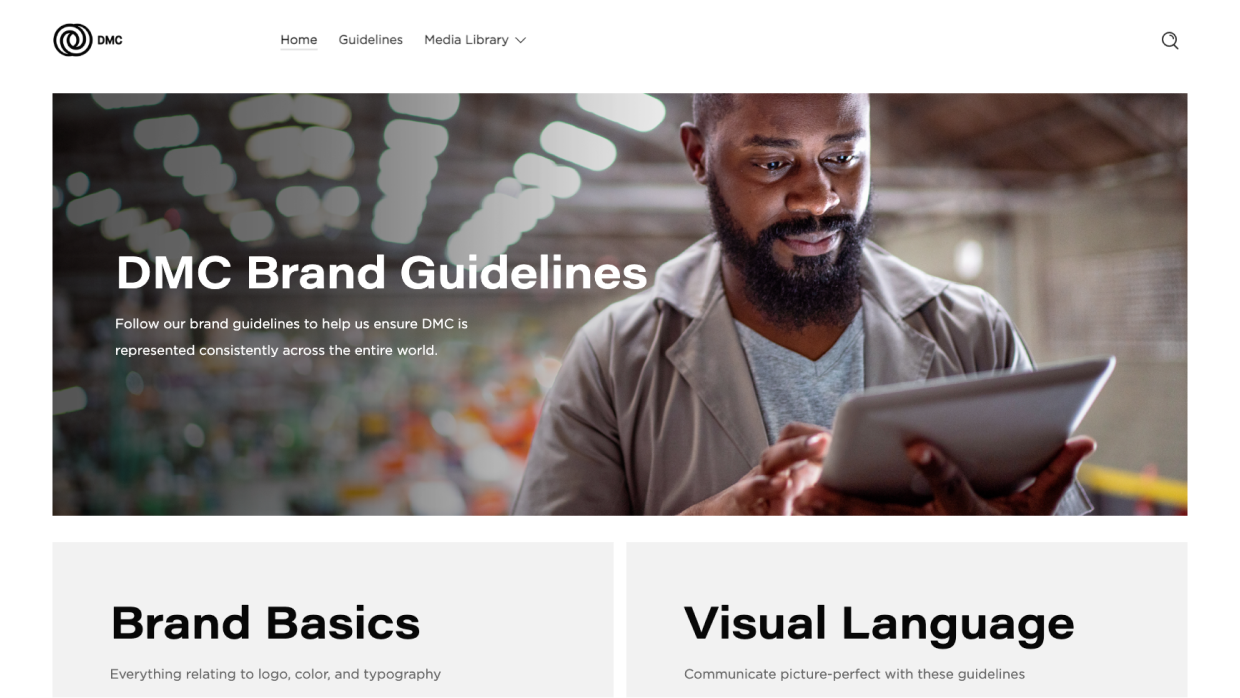 BRINK and DMC Global partnered to bring the DMC Global brand to life. In just four months, we collaborated to create:
Clear alignment on positioning that differentiates DMC as a disruptive holding company that helps portfolio companies blaze new paths
Messaging, design features, and a brand voice that aligns the DMC business model with their company values
A redesigned website that activates the new DMC brand in the market and elevates DMC with a modern, refined aesthetic
Brand guidelines that will stand the test of time and can be accessed by all DMC employees
Most importantly, the DMC brand is now poised with the right tools and platform to scale as they grow. BRINK is proud to continue to support DMC as their agency of record. Future projects are slated to continue strategic evolution of the DMC brand and marketing activations to attract new portfolio companies and investors as well as help existing portfolio companies sustain their market-leading positions.
OTHER WORK THAT MIGHT INTEREST YOU