Skyworks was in a transformative phase of expansion, moving from a primary focus on mobile into broader markets that spanned thousands of potential customers. As such, the company needed a new plan of attack. While there was no doubt that Skyworks has a long history of driving successful innovation, they needed to ensure that the brand, website, and marketing technology enabled them to conduct enterprise-level marketing efforts, speak to multiple customer segments, and support personalized and targeted customer interaction. Skyworks now has a compelling global brand, a robust customer-focused website, and a company value that has increased by over $1 billion. Skyworks continues to partner with BRINK on ongoing digital investments that pave the foundation for additional growth.
TIMEFRAME: AGENCY OF RECORD
BRINK and Skyworks have partnered together since 2018 to deliver a new digital marketing strategy and vision. Like any relationship, there's good times and challenging ones. We've worked through everything together and continue to partner with BRINK across all aspects of our digital business — and they are a true extension of our team. So proud of our work together!"
Skyworks
Head of Communication
Competitive/comparative analysis 
Website navigation recommendation

Website Redesign And Build
Analytics setup and optimization
Technology evaluation and platform selection
Enterprise-grade experience management platform (Sitecore)
CLIENT
Skyworks Solutions is a $5 billion IoT and semiconductor company with a rich 20-year history. They deliver innovation across markets through solutions and connectivity applications that span 5G, autonomous automobiles, healthcare, IoT, and smart home.
Skyworks was primed to expand from the mobile sector and serve clients in 20+ broad markets. This ambitious shift required a digital vision and maturity plan that would guide them into new markets and across digital channels. BRINK was engaged to set in motion vital platform and brand infrastructure updates. The partnership included a website redesign that soon evolved to include ongoing enhancements — such as a major navigation redesign and chatbot integration — that continue to this day.
Key Challenges
Guide Skyworks' transition from one market (mobile) to 20+ new markets
Redefine the Skyworks digital brand from the ground up, from typeface to positioning
Identify, target, and support a wide array of customer segments
Strategize branding, messaging, and customer experience across digital channels
Identify an enterprise-grade experience management platform
Redesign and optimize the website to support the new Skyworks brand and customer base
In BRINK, Skyworks found a partner with semiconductor expertise who could enhance their leadership position in the market. They selected BRINK based on the team's experience, accountability, and ability to collaborate in person at the Skyworks headquarters in Irvine, California.
At BRINK, all clients benefit from executive accountability, authentic collaboration, and a talented team that truly immerses themselves in order to activate against growth goals with unparalleled creativity and efficiency.
Competitive reviews and brand workshops served as the starting point to redefine the Skyworks digital brand from the ground up, from color palette and typeface to imagery and positioning. BRINK worked hand in hand with Skyworks' creative director to absorb the internal rebrand efforts that Skyworks had already outlined — and identify critical enhancements. As Skyworks continued to add new markets to their portfolio, it soon became clear that the website experience was not intuitive and needed restructuring.
Personalization in Action
BRINK concentrated the initial strategy around the concept of advanced personalization. The new website needed to recognize customers, learn from their behavior, and serve up experiences and content that was unique to them. Sprints were organized to tackle design, development, and UX.
Perfecting the website required major enhancements. A plan was identified to replace the original hamburger navigation with a meganav visible at all times, update the search functionality, refresh the product detail pages, and add a chatbot feature to support customers.
Skyworks hoped to serve customers in a way that focused on approachability, performance, and efficiency. The new brand and website were designed to support this goal at every turn, from new colors and fonts to a captivating hero carousel and design schema.
Navigating Customer Needs
The website now features a meganav that is always visible so that visitors can easily access high-level pages, view recently viewed pages, drill down to deeper content, and learn about featured products. Product detail pages also got a facelift with a new design, improved organization, and enhanced flow.

The BRINK team designed a new search box for Skyworks customers that is always present and accessible from multiple website locations. Meanwhile, a chatbot app was customized by the BRINK dev team with intuitive user flows that let visitors get help, browse products, and discover purchase options.
The close and collaborative partnership between Skyworks and BRINK means that new goals can be seamlessly identified and addressed in an organic, consultative fashion. When it comes to tech, a robust Sitecore platform now supports the company's enterprise goals. The website is responsive and optimized across devices, while the navigation can be updated by the Skyworks internal team. Going forward, Skyworks has the ability to populate a new blog framework, while the chatbot app is capturing user data so that a live chat feature can soon be implemented.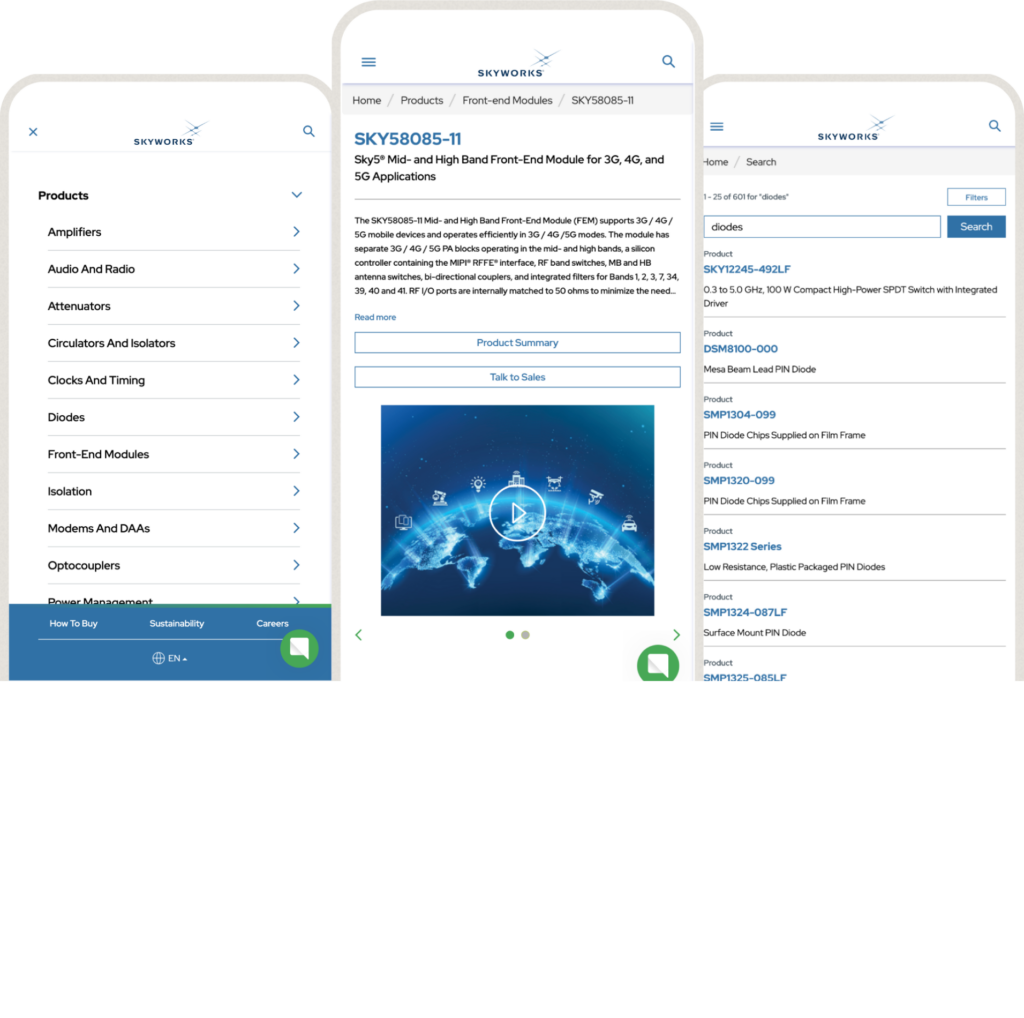 A global digital strategy, upgraded asset management system, and personalized website now allow Skyworks to support multiple markets with ease. They have successfully expanded to support 10 market applications and associated revenue streams. Since BRINK and Skyworks began their partnership, the company's estimated value has increased by over $1 billion. This rock-solid foundation has allowed Skyworks to sustain a leadership position and scale over time. The sky is the limit for Skyworks as they continue to partner with BRINK as their digital agency of record.
OTHER WORK THAT MIGHT INTEREST YOU