Well known in Silicon Valley for market-disrupting innovation, Renovo was ready to push its autonomous automobile enterprise software even further. While they had already developed a game-changing method for autonomous vehicle data collection, they were ready to better market their software's ability to provide AI-driven improvements and predictions. BRINK jumped in to pave the way for a new software product on an aggressive 9-week timeline. With a thoughtfully crafted user experience and stunning visual design, the new Renovo "Insight" product won the CES 2020 Innovation Award. Shortly thereafter, Renovo was successfully acquired by Toyota.
2020
CES Innovation Award
We've been working on this platform for over six years — mostly on the engineering and development front. BRINK not only helped us create a better product, but the work also led to us establishing a center of excellence here at Renovo focusing on customer experience. BRINK is our go-to for innovation and speed when we need it. In many ways, their culture is similar to our own — smart and nimble, fast and furious."
User tasks and flow definition
Navigational architecture
CLIENT

Renovo is an automotive vehicle software company focused on enabling the global commercialization of autonomous vehicle fleets. They build technology that merges self-driving software, data analytics, and automotive-grade safety systems. 
Renovo pioneered autonomous vehicle software that enables automotive companies to efficiently ingest, index, and tag vehicle data; query vital insights; and automatically update engineers — ultimately empowering their customers to bring new autonomous features to market quickly. The only problem was that Renovo needed a more marketable software design that excelled from a brand experience standpoint. BRINK was tasked with gaining a deep understanding of Renovo's business goals and user needs in order to improve and update the existing software product to one that would provide both Renovo and its users with a clear path to success.  
Key Challenges
Transform the existing Renovo technical product by adding substance, depth, and design
Create intuitive yet visually stunning software that meets the demands of engineers
Iterate quickly on key moments that matter in the software experience
Redefine the user experience for an enterprise software platform in a matter of weeks
BRINK was referred to Renovo by VIZIO, a former client who worked with BRINK on TV, mobile, and tablet experiences. Renovo recognized the expertise BRINK possessed when it came to building and marketing SaaS software, along with a kindred passion for working quickly and conducting in-person workshops to expedite time to insights. 
With Insight we've been able to create a solution that addresses the challenges of vehicle and AI data management at scale for the automotive industry. Insight is enabling AV/ADAS development teams to quickly leverage key data points, allowing their companies to compete with the market faster and with the most advanced features."
Renovo
Chief Executive Officer via GlobalNewswire
At BRINK, all clients benefit from executive accountability, authentic collaboration, and a talented team that truly immerses themselves in order to activate against growth goals with unparalleled creativity and efficiency.
The project began with an aggressive timeline. BRINK signed the contract on a Friday and was on site at Renovo on Monday. Several on-site workshops and interviews allowed us to break down existing processes and UI frameworks, map the user journey, and identify key moments that mattered in the software experience.  
Driving Beyond the Original Ask  
Our team's goal wasn't just to understand the Renovo software as it worked today and rush into hasty visual concepts. We wanted to understand Renovo's vision for the future in order to formulate a clear roadmap for lasting success. It became clear that there were opportunities to not just enhance the existing user interface, but to enhance the product itself. Renovo was operating on a fairly rudimentary system rife with flow and functionality issues. BRINK also recognized that Renovo could be collecting more and better vehicle data than they were currently capturing. The software would benefit from both a visual and architectural makeover. 
Functionally, Renovo needed a new flow for managing vehicles and their associated data. For example, they needed a mobile status so that techs servicing many cars at a time could get automatic alerts for errors and completed tasks. BRINK recommended a strategy of custom queries that involved moving away from Jupyter Notebook to custom AI models.
Visually, BRINK set out to simplify the navigation flows and product dashboard based on real-life developer use case scenarios and user stories. A heuristic analysis of the current system revealed what was working and wasn't, and allowed us to align on tech requirements and architecture flows as well as define the UI framework and wireframes.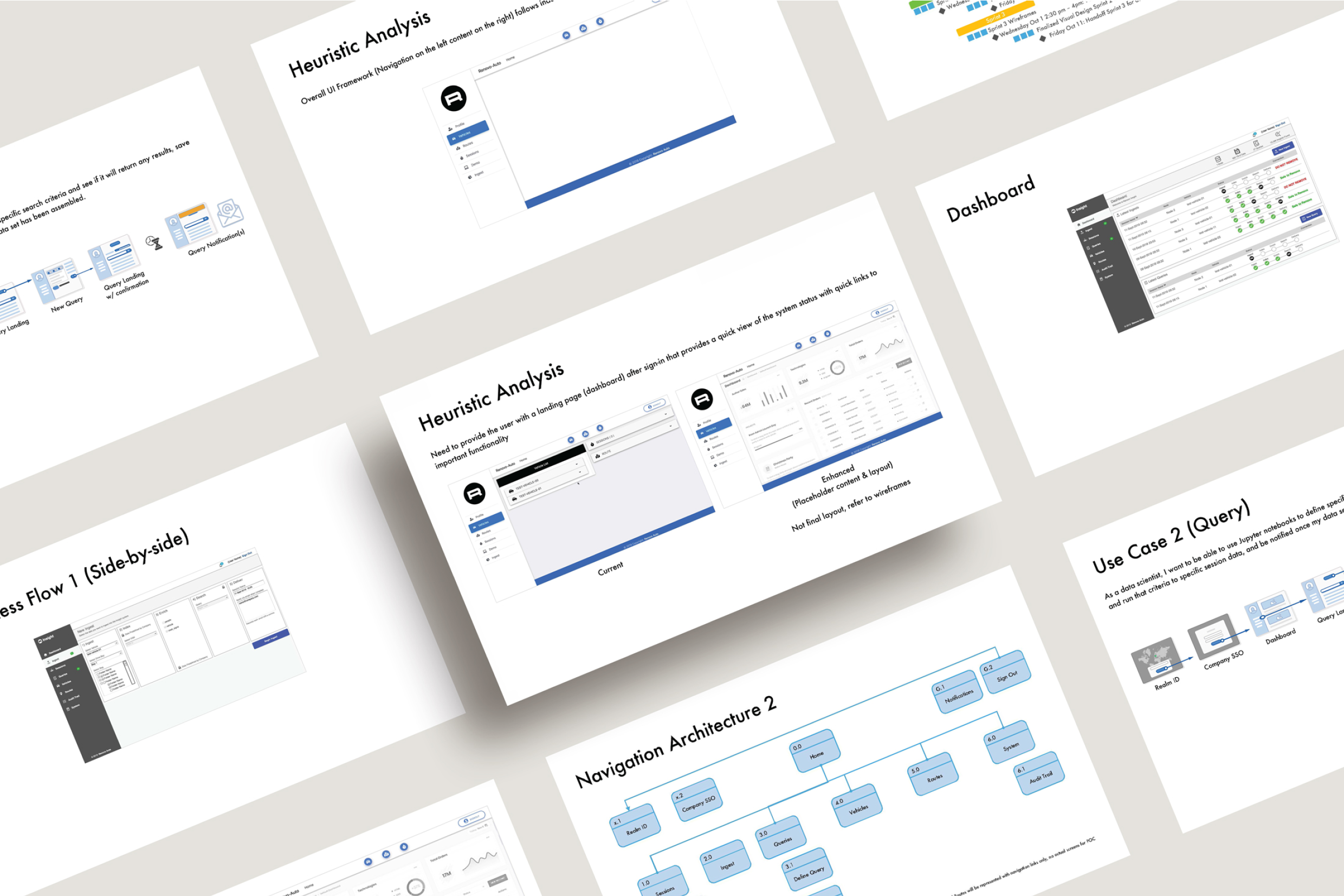 Renovo had a dev team in place to bring new coding to life, but relied on BRINK for visual design support. BRINK brought the design to life with a prototype that illustrated the new flows and functionality. Once approved, the BRINK design team applied a visual skin to the prototype wireframes and delivered the design assets and style guide to Renovo for implementation.  
The new Renovo Insight platform was a pioneering product that merged software, data analytics, and safety systems into a unified solution for automated mobility for on-demand fleets. Our work gave Renovo a new standard for brand and software design guidelines that put it on the short list for many autonomous automotive companies in Europe and the U.S. The Insight product won the 2020 CES Innovation Award and Renovo was successfully acquired by Toyota in 2021. 
OTHER WORK THAT MIGHT INTEREST YOU