We value our partnerships with our agency partners — value based on accountability, trust, and results. All of which we receive from our relationship with BRINK — they are helping us deliver excellence to our customers in a very niche market.
TIMEFRAME: AGENCY OF RECORD
$80B
Semiconductor Client
Fabscape is the premier open platform for vendor-independent data monitoring, management, and analytics across the entire production line."
Fabscape
General Manager
Messaging and positioning
CLIENT
Fabscape is the premier open platform for vendor-independent data monitoring, management, and analytics across the entire production line.
Today's semiconductor manufacturers must juggle multiple single-vendor closed solutions to produce chips. The equipment vendor we work with recognized that traditional siloed software was longer adequate to tackle modern challenges. This led them to develop Fabscape — an open, vendor-independent data and application platform. The problem? This novel approach is entirely new within the industry. Not only did we need to introduce Fabscape to the market at large, but to overcome entrenched proprietary habits that have historically limited software innovation.
Key Challenges
Develop an approach, strategy, and model for how to use artificial intelligence to predict outcomes and get ahead of any supply chain outages resulting from failed parts
Determine the primary user groups to target and understand what is important to them
Create compelling messaging around why Fabscape is the ideal solution to streamline data insight and analysis, facilitate custom solutions, and increase yield
Consider the needs of both chip manufacturers and equipment vendors and how they can mutually benefit from the Fabscape platform
Introduce Fabscape to the industry using a strategic combination of content and channels
While BRINK is not a dedicated semiconductor agency, Fabscape wanted a partner who could use a fresh perspective and approach to bring an innovative new product to market. They recognized that our commitment to deep immersion in our client work would allow us to speak to the product in compelling ways, without being industry insiders ourselves.
At BRINK, all clients benefit from executive accountability, authentic collaboration, and a talented team that truly immerses themselves in order to activate against growth goals with unparalleled creativity and efficiency.
The first step was to determine a strategy for where Fabscape fit into the market, who the primary users would be, and what the best ways to target them would look like. A holistic strategy was designed to break into the market using a combination of a sophisticated website presence, white papers, industry publications, press releases, webinars, paid ads, and organic LinkedIn posts.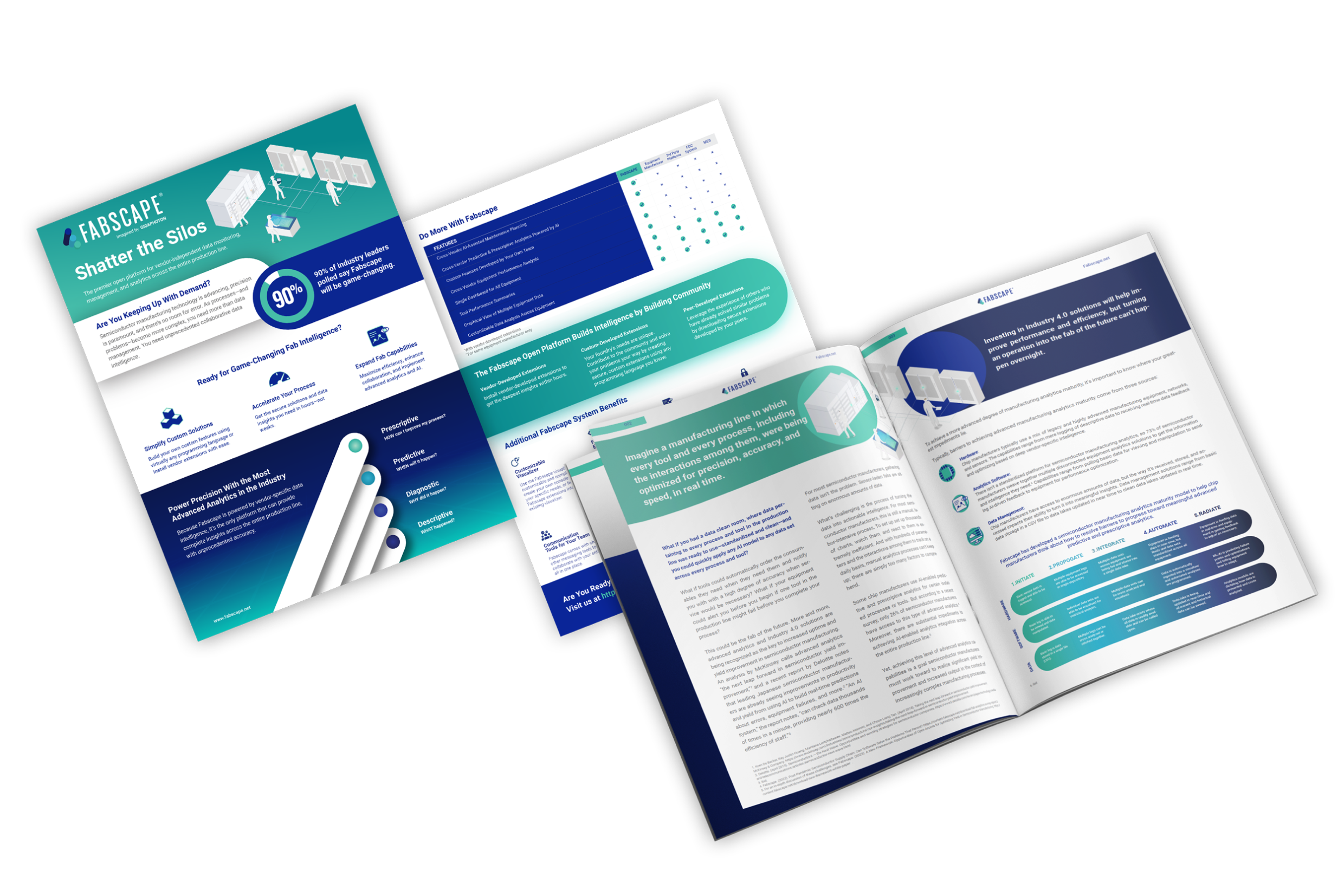 BRINK identified three primary user groups for the Fabscape platform: foundries, equipment manufacturers, and developers. A clear statement was developed that summarized the purpose of Fabscape to all potential users: "Fabscape is the premier open platform for vendor-independent data monitoring, management, and analytics across the entire production line."

The decision was made to focus on developers as the first key audience to target. Working alongside our primary partner, the digital transformation general manager, we prepared to market the free Fabscape core as a beta-testing ground for developers across the industry to play with the technology — with the expectation that those developers would become natural advocates for paid platform adoption.
From the Fabscape logo to the website, a sophisticated eye to design was used to create all marketing elements from scratch. Today, a cohesive visual story exists across email blasts, paid ads, webinar assets, and more. Value propositions take center stage thanks to support from feature charts, and inspiring futuristic images, and renderings of semiconductor technology processes that are notoriously difficult to capture in visual form.
In addition to designing the fabscape.net website, the BRINK team helped set up a second website dedicated to the Fabscape developer trial. Tests were conducted to determine quality assurance prior to the launch of the free developer toolkit, and a dedicated login page was created complete with secure two-factor authentication for newly registered users.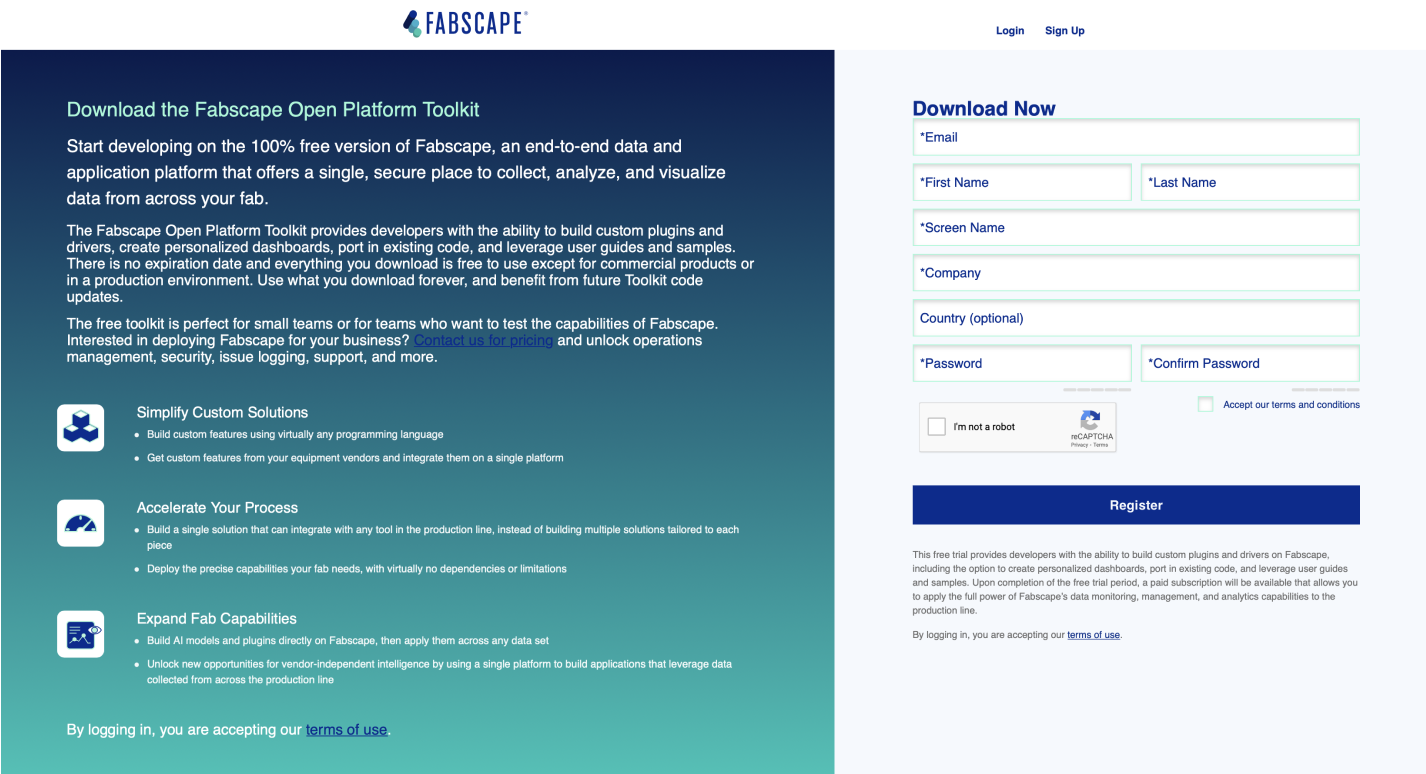 The Fabscape developer trial launched in the fall of 2022. As developers begin to discover the Fabscape platform's free capabilities, the potential for growth into paid adoption is significant. The ultimate goal is to gain widespread buy-in that allows Fabscape to become a truly open and collaborative industry platform, resulting in positive transformation of semiconductor production practices at large.
To date, the industry-leading Fabscape perspective has been featured in 6+ industry publications and a Semiconductor Digest webinar. Top prospects regularly engage with email content, and the equipment vendor partner who conceived the Fabscape concept continues to impress existing customers by applying the power of Fabscape to their own equipment. With a clear roadmap in hand, Fabscape is partnering with BRINK to invest in new ways to introduce Fabscape to professionals in the semiconductor industry and beyond.
OTHER WORK THAT MIGHT INTEREST YOU