Black Diamond required an entirely new brand and digital experience that would support multiple customer segments and their associated customer journeys. BRINK took on the challenge of reimagining the iconic brand while staying true to its historic roots and existing loyal customers. A new web presence was supplemented with a robust DTC sales platform and a powerful new CMS. This ultimately enabled a content-plus-commerce experience that moved customers seamlessly from initial brand engagement to final transaction.
Bringing the brand to life online required intense collaboration and a shared — and above all earned — trust."
Black Diamond
Chief Executive Officer
Messaging and positioning
Website Redesign and Build
DTC sales platform setup (Demandware)
Analytics setup and optimization
CLIENT
Black Diamond is an outdoor company with roots going back to 1957, when Yvon Chouinard forged pitons by hand and sold them to California climbers. The company sells a wide range of gear globally, from outdoor apparel to climbing supplies to ski equipment.
Black Diamond was an established global brand with a flourishing customer base. Yet it became clear that a new brand and comprehensive digital strategy was needed if Black Diamond wanted to effectively connect with multiple customer segments and guide each group from the awareness stage to transaction and beyond.
Key Challenges
Collaborate closely with the Black Diamond team to develop a shared vision for solutions that would not stray too far from the brand's iconic roots
Rebrand, revamp the customer experience, and adopt a new platform while ensuring each piece of the puzzle could adapt to various audiences
Develop a content strategy that aligned with identified customer segments and supported new customer journeys
Architect new CMS and sales technology from scratch and deploy it to support a global organization
Deep expertise in the branding and customer experience realm made BRINK the clear choice to bring a fresh Black Diamond brand and corresponding digital activations to life. A deep well of trust established at the project outset satisfied Black Diamond that BRINK would remain true to the original brand ethos while creating new conditions for online success — and ultimately increase global sales.
At BRINK, all clients benefit from executive accountability, authentic collaboration, and a talented team that truly immerses themselves in order to activate against growth goals with unparalleled creativity and efficiency.
The project began with a deep dive into the Black Diamond customer base, brand ethos, and existing technology stack. Collaborative workshops with the Black Diamond team encompassed topics ranging from persona development to visual design.
Climbing to Peak Customer Targeting
The discovery process served to identify six separate Black Diamond customer segments. Categorizing these segments made it possible to create strategies targeting each one. Every initiative that BRINK designed was assigned a goal and associated KPIs, so that success could be measured in real-time and optimized as needed.
Blazing Paths to CX Success
To support Black Diamond's varied customer bases, BRINK next devised a new website that had two vital paths of exploration: a "Shop" path and an "Experience" path. The Shop path led customers through an easy-to-navigate purchasing funnel to enhance the buying experience. The Experience path offered customers rich content in the form of product testing articles, inspirational photos and videos, and integrated social media.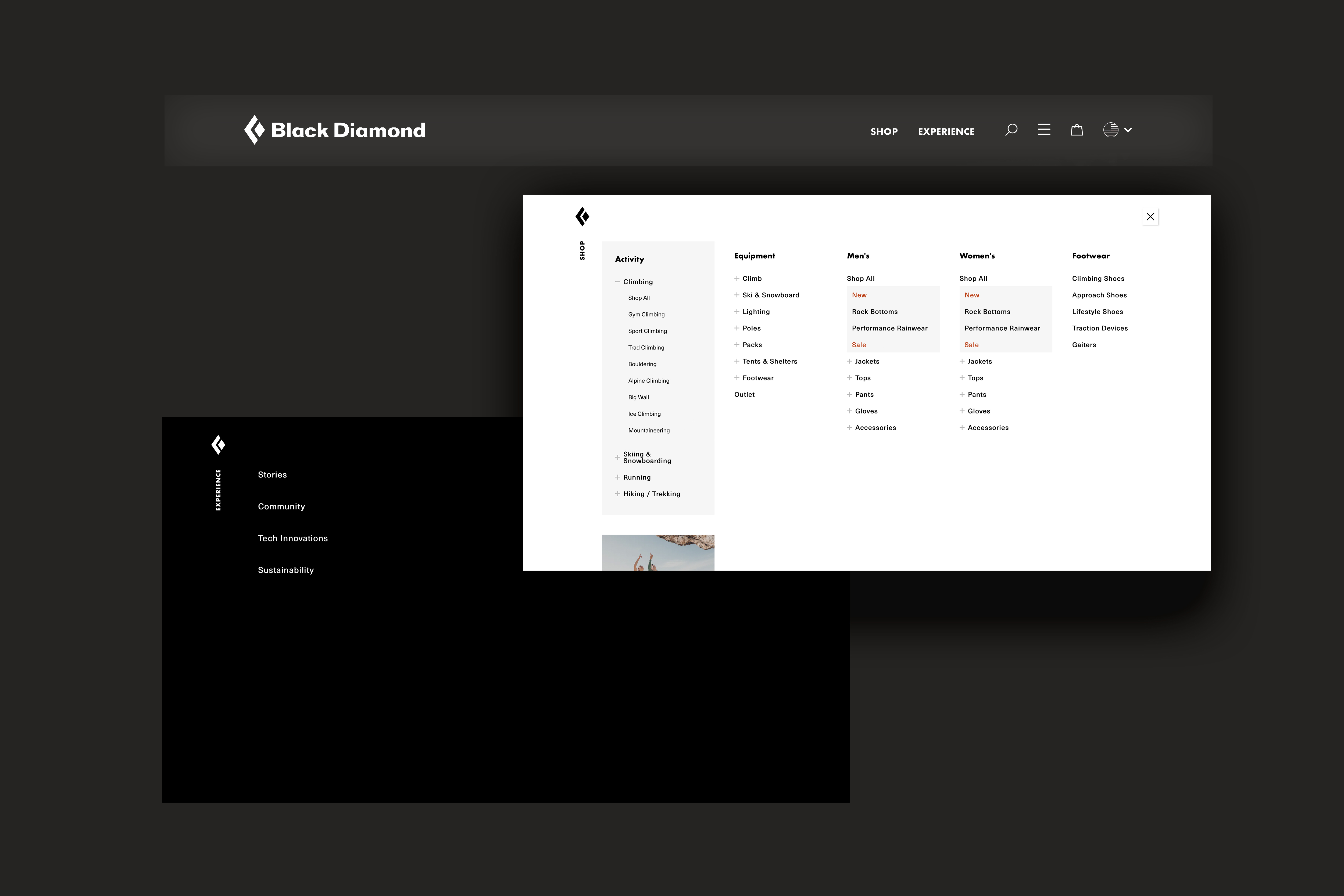 The BRINK team of user experience, visual design, and content and copy experts set out to design new, immersive brand experiences that would speak to prospective customer interests, activity skill levels, and brand familiarity. The website gained a new mobile-friendly design and opportunities for engagement, while the DTC sales platform allowed for a personalized e-commerce transaction journey
Immersive, Personalized, and Primed for Growth
BRINK implemented a robust DTC sales platform using Demandware. The cloud-based e-commerce platform unified Black Diamond sales efforts thanks to mobile capabilities, AI personalization, and order management. When combined with a new website CMS, customers at any point in the buying journey could enjoy a personalized and immersive experience. The new content-plus-commerce experience was measurable in real-time, demonstrating immediate results.
Both the Black Diamond team and their customers raved about the new brand and customer experiences. They loved the new level of immersion and various interactivity opportunities of the new website. The innovative customer experience met the client's goals and brought the brand to life in new, unexpected, and engaging ways and built a solid foundation for future growth.
OTHER WORK THAT MIGHT INTEREST YOU