EGYM found itself in troubled waters when the original agency contracted to reimagine their brand and launch corresponding digital activations dropped the ball. BRINK stepped in midstream to help position EGYM as a premium yet approachable global fitness and wellness brand that spoke to gym owners, members, and employees. Mere months later, EGYM had a compelling global brand strategy that was activated in the form of a new website, mobile and tablet resources, and physical marketing materials.
TIMEFRAME: AGENCY OF RECORD
BRINK was our shining star and was able to perform near-miracles when we needed it most. They stepped into an extremely dynamic situation, and yet performed calmly under pressure from our board, executive team, and marketing team. They're honestly the SEAL Team Six of their space."
EGYM
Chief Marketing Officer
Messaging and positioning
Website Redesign And Build
WordPress to Acquia replatform
Analytics setup and optimization
Creative concepting for mobile and tablet
Voice and tone guidelines
Editorial style guidelines
Internal brand rollout video
CLIENT
EGYM builds smart strength systems, digital workouts, and corporate wellness programs that are trusted everywhere from YMCA facilities to boutique recreation centers. The EGYM mission is to revolutionize the fitness market by making the gym workout experience both personalized and fun. When workout equipment is combined with EGYM hardware and software, gym-goers achieve powerful results.
EGYM was in a prime position to reach a diverse global audience if they could successfully connect to gym owners, members, and personal trainers through compelling web, mobile, and retail activations. Six months in, progress stalled when the original agency could not perform successfully. EGYM turned to BRINK to step in midstream and help them hone a new creative identity that would strategically position them in the fitness market and bring their unique fitness services to life through a complex omnichannel activation.
Key Challenges
Create a brand strategy and creative identity in two months to meet the pre-existing schedule
Position EGYM as a premium yet approachable fitness and wellness brand that appeals to diverse audiences
Design and launch the brand in multiple regions during a global pandemic
Select an enterprise web digital experience platform that fulfilled global technology requirements
Activate the brand across multiple channels including web, mobile, and physical gym locations
EGYM was referred to BRINK by a global gym franchise. This personal referral from a contact in the fitness industry granted EGYM confidence that BRINK was the right choice. With an experienced and integrated team well-versed in brand activations and website design, EGYM felt that BRINK could not only step in and meet existing deadlines and expectations — but exceed them.
At BRINK, all clients benefit from executive accountability, authentic collaboration, and a talented team that truly immerses themselves in order to activate against growth goals with unparalleled creativity and efficiency.
The BRINK team traveled to EGYM headquarters in Germany to conduct a series of workshops, including customer segmentation and persona development. BRINK conducted extensive consumer research, undertook a thorough audit of current EGYM content, and analyzed the competitive landscape. Mood boards were developed that captured the spirit of EGYM and uncovered strategic positioning.
The discovery process revealed that if EGYM wanted to scale successfully, there were three main audiences they needed to target: gym owners, members, and employees. They needed a universal brand experience that could connect with all three of those audiences in order to facilitate adoption and expansion to new gym chains and markets.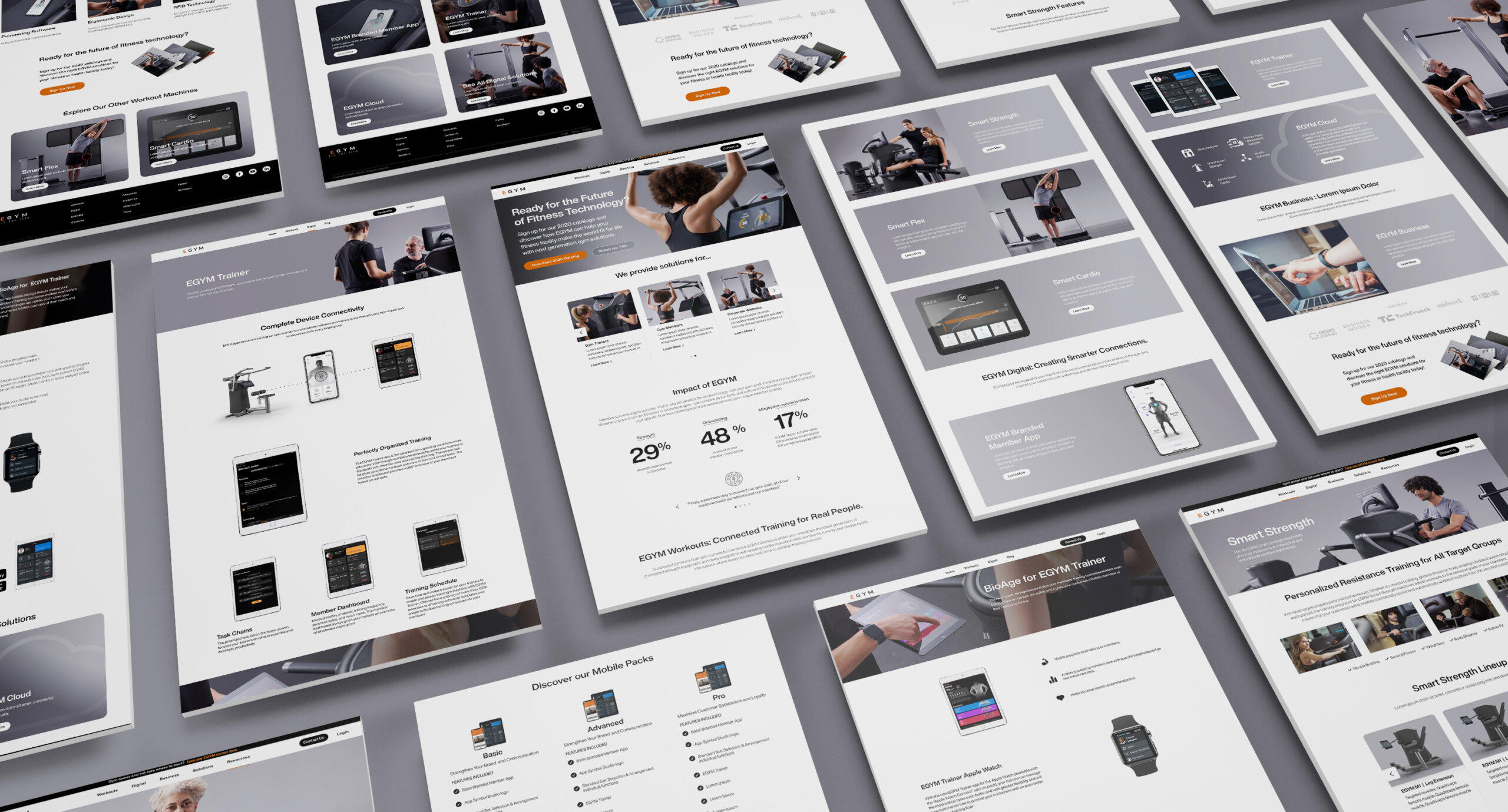 Fitness That Welcomes Multiple Audiences
Multiple audience segments were brought together under the inclusive umbrella concept of "fitness for life." This ethos spoke to all gym members, whether they were working out in a retirement home or training for an Ironman. A welcoming yet results-driven user experience would serve double duty: to provide a compelling reason for gym owners to purchase EGYM equipment, and to compel trainers to use it. By reframing EGYM product offerings in this new architecture, BRINK was able to better position their value.
Visual design merged with compelling content brought the EGYM offering to life in both digital and retail activations.
On a newly replatformed website, photography was selected that showcased machine use cases for all ages, while copy speaks directly to the decision-makers for purchase: gym owners.

A simple design allows EGYM equipment and technology to take center stage.
Retail activations included a trailer for in-person sales reps showing EGYM solutions in action. Key accounts such as YMCA and Gold's Gym were provided with partnership signage and window decals that promoted both EYGM and the gyms they were supporting. A new logo design graced all assets, and digital and retail activations were created in both English and German to support EGYM's global focus.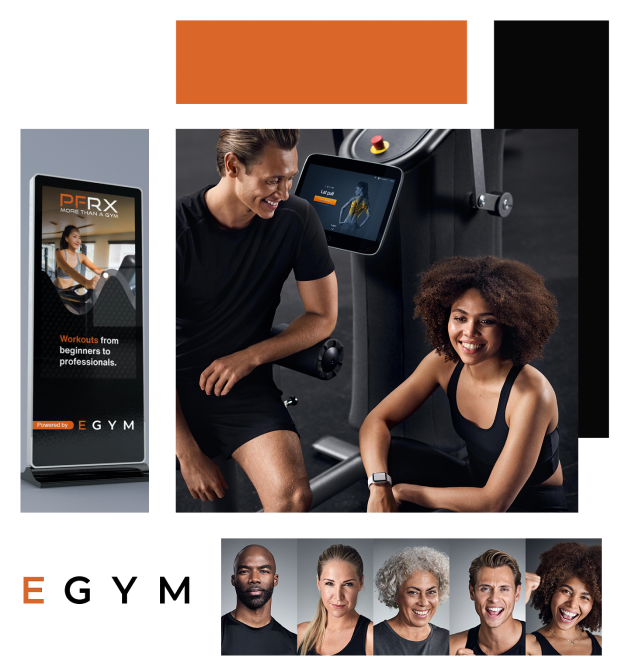 Technology and Brand Management
The new EGYM website is built on the Acquia platform to fulfill global use cases and position their website for future growth. Built on Drupal, Acquia allowed EGYM to scale internal operations and support the new platform long-term.

To support consistent messaging and branding across all company assets as they scale, BRINK developed formal guidelines to help anyone at EGYM develop on-brand written content and visual assets. We configured the guides on a searchable, cloud-based platform for seamless company-wide access.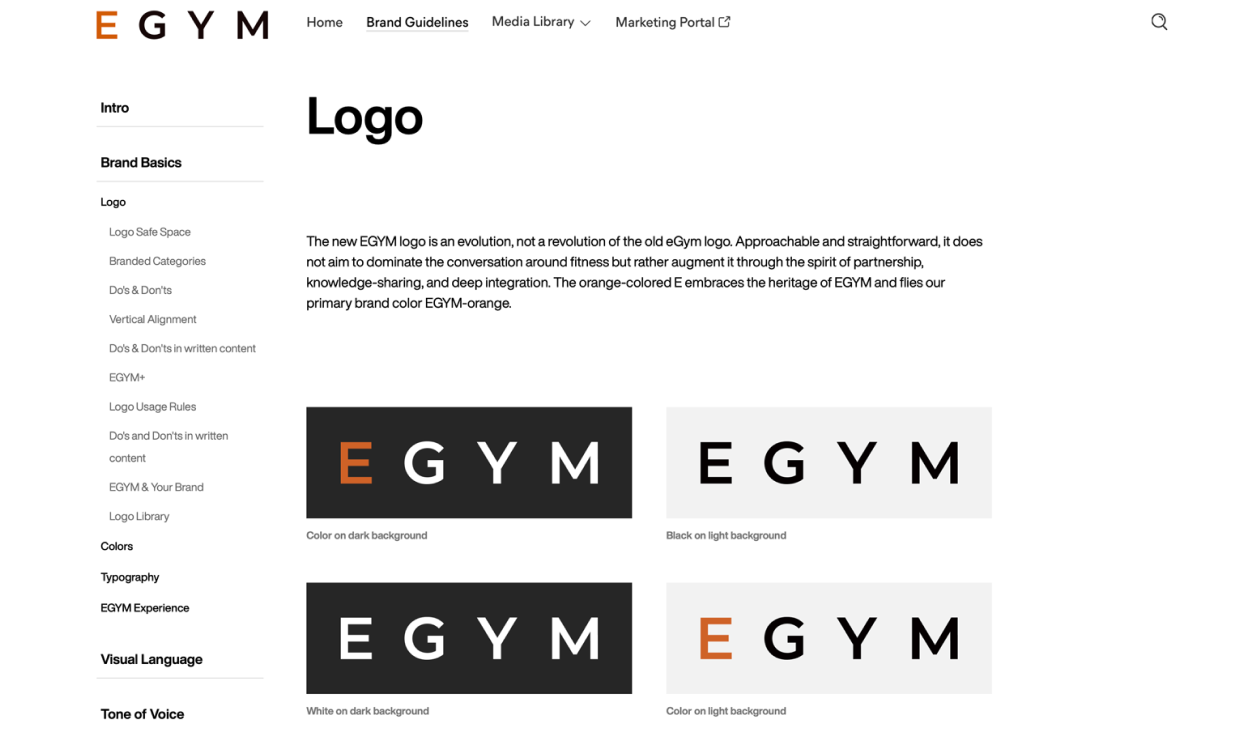 EGYM successfully launched a new brand, a global re-platformed website, and retail activations during a global pandemic. In just 6 months, BRINK and EGYM collaborated to create:
A creative brand identity and a clear strategy that positions EGYM as a high quality fitness and wellness brand desired by gym owners, members, and personal trainers
A comprehensive technology replatform that accommodates global EGYM operations
A new global website that activates the new EGYM brand in the market and tells a compelling story for each audience segment
Additional activations for mobile and in-person experiences
EGYM is now equipped with a durable digital infrastructure that will support them as they expand into new territory. Following the initial launch, BRINK continued to support EGYM in technology and creative development as their agency of record.
OTHER WORK THAT MIGHT INTEREST YOU