U.S. Soccer desired an official app that would connect legions of fans with ongoing sporting events. With the Women's World Cup fast approaching, BRINK was hired as the lead agency to develop and launch the Android application in time for the competition in concert with AKQA. The result was an app that provides fans with an immersive matchday experience thanks to event schedules, game highlights, live stats, and access to exclusive mobile content and on-site events.
1
Incredible App Community
With our partners at BRINK, we saw an opportunity to create and develop a mobile experience that expanded our reach and simplified the essentials for attending and following our teams and events. Critical for the first-ever U.S. Soccer App!"
Head of Technology

User interface development
Infrastructure and engineering
Livestream data integration
Collaboration with SiteCore and Apple workstreams
CLIENT
U.S. Soccer is the governing body for the sport of soccer in the United States. The organization has played an integral role in expanding and supporting soccer in America for over a century. The overarching mission of U.S. Soccer is simple: to popularize and promote all forms of soccer in the United States, from recreational to competitive.
An established national sporting institution, U.S. Soccer needed to create a mobile offering that would engage millions of fans in professional matches from the palm of their hands. BRINK was engaged to bring a new app to life on an aggressive timeline while collaborating with multiple participants and stakeholders, with the goal of simplifying fan access and expanding overall reach.
Key Challenges
Concept, develop, and swiftly deploy a new mobile app in time to support the Women's World Cup
Coordinate with the existing agency responsible for UX and Design as well as third-party contributors to ensure a cohesive app look and feel
Incorporate functionality for player stats and gameday updates
Feature real-time live coverage so fans can achieve the same experience on mobile as they can on television
U.S. Soccer turned to BRINK to leverage our team's expertise in supporting clients in the sporting and athletic arena. Coupled with our knowledge of digital platforms and technical specifications, U.S. Soccer was confident in the BRINK team's ability to produce a creative, functional, and engaging app on a tight timeline.
At BRINK, all clients benefit from executive accountability, authentic collaboration, and a talented team that truly immerses themselves in order to activate against growth goals with unparalleled creativity and efficiency.
The new app leveraged the professional look and feel of the U.S. Soccer brand within the immersive and informational format of a mobile application. BRINK coordinated with AKQA to ensure that all elements aligned with existing design guidelines.
Supporting an Immersive User Experience
Much of the design success relied on code-driven, livestream data feeds. This meant that a stable development environment was critical for visual success.

It was also important that users be able to clearly navigate between app features such as player statistics and schedules in an aesthetically pleasing way. The app was designed to feature an innovative event-tracking display so that users could participate in the matchday experience and watch live coverage with ease.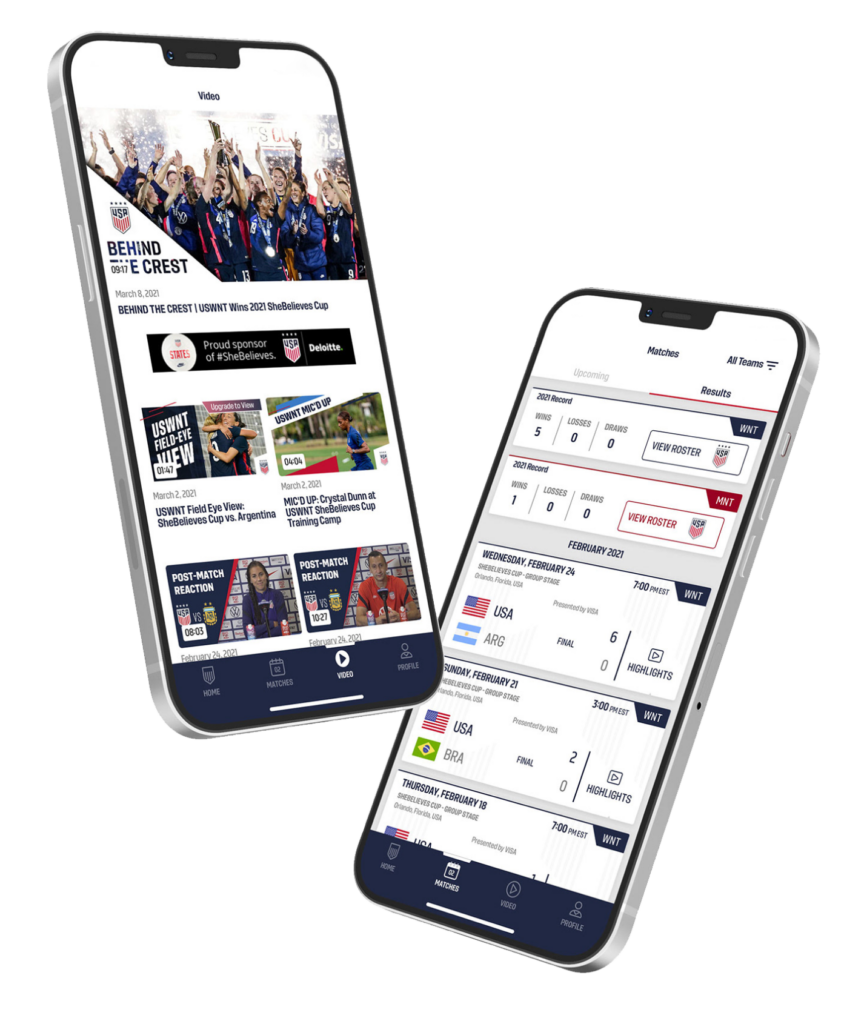 The development process was organized in iterative sprints, thereby speeding time to market to meet the critical deadline of going live for the Women's World Cup. In addition to developing functionality to view stats, schedules, and match coverage, additional features were developed so that users could explore additional content, offers, and activities exclusive to U.S. Soccer Insiders.
One App to Support All USSF Matches
The new U.S. Soccer App allows fans to stay up to date on new match announcements and ticket sales, while every moment is tracked with one-of-a-kind visualizations and play-by-play commentary. Today it provides the easiest way to follow not just the USWNT and USMNT matches, but all games played under the USSF umbrella. With the app, more fans than ever can experience the magic of U.S. Soccer matches in action and engage in experiences unique to the app community.
The U.S. Soccer App generated more than 30 million downloads within 10 days of its launch. The app was an instant success with users, who appreciated the new ability to engage with content when and where they wanted it. The crowning success of the launch came in the form of the U.S. Soccer women's team winning the World Cup!
OTHER WORK THAT MIGHT INTEREST YOU