When premier startup technology service provider Lohika was acquired by Capgemini, BRINK was engaged to ensure that Lohika maintained their sterling position in the market. By harnessing the power of analytics, BRINK transformed the way that Lohika approached creative production for their events. Creating a flywheel between data, creative, and event activation increased awareness and attendance for Lohika events and improved the company's KPIs by 150%.
TIMEFRAME: AGENCY OF RECORD
We didn't need a traditional agency — we needed a true partner who could set up repeatable systems and processes to drive both brand awareness and lead generation. We found that partner in BRINK. Together, we've been able to produce high-quality event creative on a fast-paced schedule for many months and counting."
Lohika
Global Head of Marketing
Task and workstream management
Analytics And Optimization
Strategy and performance reviews
CLIENT
Lohika helps high-growth companies engineer the next big thing. The premier startup technology service provider is known for engineering agile solutions and for hosting events that cater to the best and brightest startup minds in Silicon Valley and beyond.
Lohika was running an impressive schedule of events that required them to churn out a huge amount of creative production monthly. Yet they were missing one key ingredient: the ability to supercharge creative activations with analytics. Before working with BRINK, Lohika was using separate creative and media partners — and missing out on data-driven insights that were falling between the cracks. BRINK took on both creative and media duties in order to better fuel Lohika's event strategy and generate increased demand.
Key Challenges
Turn around high quality creative quickly to keep up with Lohika's packed event schedule and strict deadlines
Conduct constant testing and creative iteration based on analytics
Navigate new branding and positioning considerations due to the recent acquisition of Lohika by Capgemini
A traditional agency was not what Lohika needed: They needed a partner who could truly function as an integrated arm of their internal team. BRINK was the natural choice due to our boutique approach and agile, interdisciplinary structure. Lohika saw in BRINK a collaborative partner who could manage their event program's internal and external resources — and drive success in the process.
At Lohika, we were lucky to have an excellent industry reputation and a packed event schedule. What BRINK was able to do was harness data to create a powerful flywheel that made those events even more meaningful for our customers. The BRINK team dove in headfirst, consolidating our creative and media efforts so that we could act on data-driven insights. The result was a nearly 75% increase in leads in just six months — with less ad spend."
Lohika
Global Head of Marketing
At BRINK, all clients benefit from executive accountability, authentic collaboration, and a talented team that truly immerses themselves in order to activate against growth goals with unparalleled creativity and efficiency.
BRINK assumed responsibility for media strategy and planning for Lohika with the goal of identifying goals and exceeding them. In order to surpass goals, the creative production and design for Lohika events needed to be informed by analytics. To this end, BRINK began to proactively leverage analytics through a program of regular A/B testing and iteration. This ongoing, recurring strategy helps to produce compelling creative in a predictable fashion for 6-7 Lohika events per month.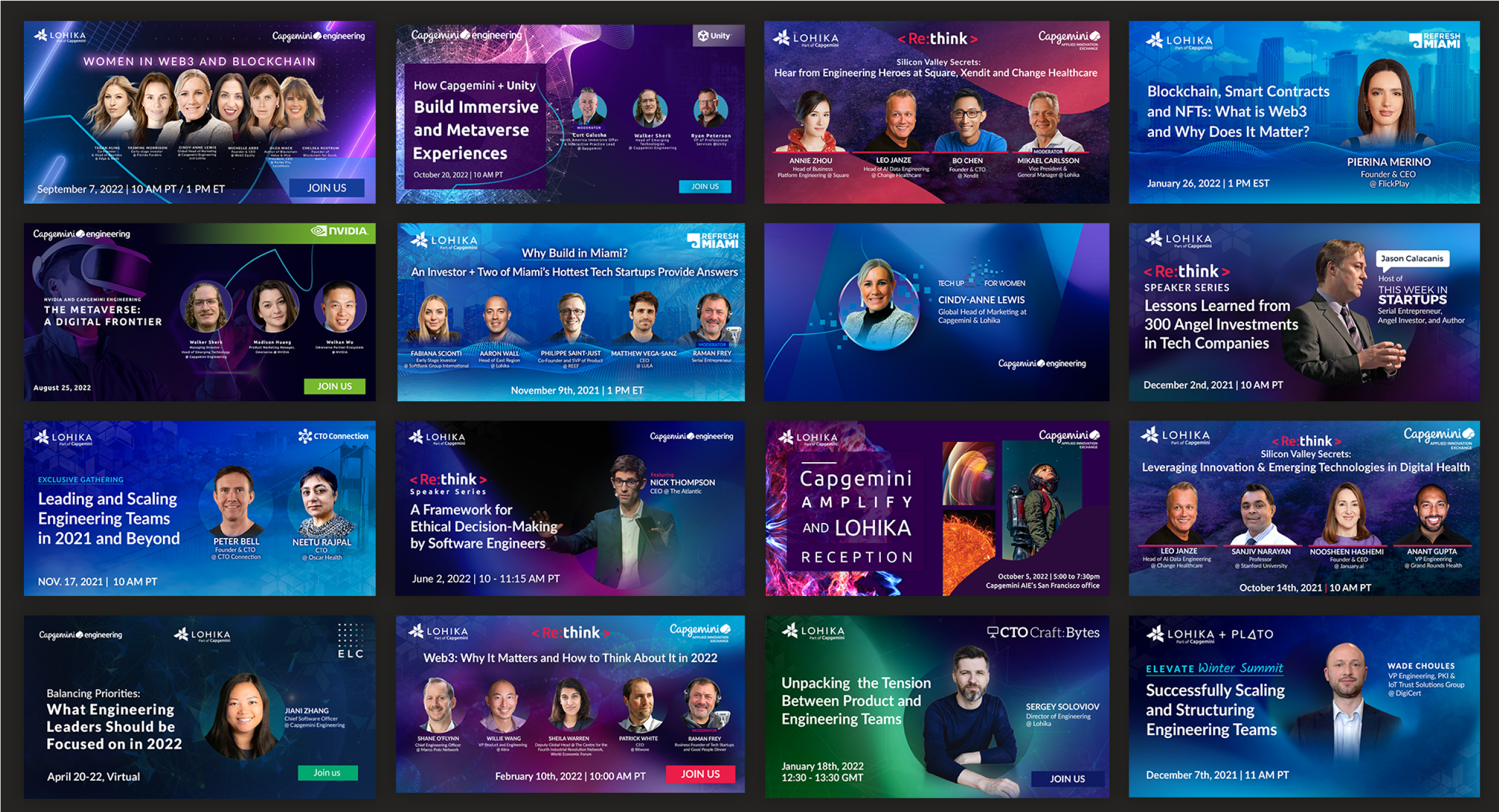 Balancing Brand, Audience, and Event Requirements
To properly position event creative for Lohika, there were three layers that needed to be navigated. First, Lohika needed to be positioned properly under the Capgemini umbrella, with Lohika events supporting the needs of the parent company's audience. Second, Lohika needed to position their events in ways that ladder up to their original goals — speaking successfully to the audience they had cultivated for many years, and which made them attractive for Capgemini to acquire in the first place. Finally, there were unique positioning considerations for each individual Lohika event, often necessitating customized marketing. Our ability to think through all of these lenses is what enabled BRINK to add lasting and ongoing value.
With a packed event schedule, Lohika had minimal lead time between events to identify goals and produce creative. To enable event creative that is fueled by data, BRINK designed creative briefs that ensure every event goes through a rigorous data, creative, and marketing checklist. This routine briefing process is couples with real-time collaboration and iteration. This way, Lohika gets the event assets they need quickly, while preserving the hightest level of quality and value.
Today, BRINK is assisting Lohika with their next phase of audience engagement: visual content and brand color direction for a community portal. When completed, the platform will serve as the home base for live events, recaps, blog posts, a podcast, and more.

Creating a System-Based Recipe for Succes
Creative promotion at scale is difficult to navigate, and the task becomes doubly hard when data analysis and testing is added to the mix. Yet that is exactly what Lohika can now accomplish over and over with peace of mind — and impressive results — thanks to the systems and reporting put in place by BRINK.
Combining media analytics with creative production resulted in a powerful flywheel with short and long-term effects.
In less than six months, total Lohika event leads increased 73% YOY with 8% less spend. The process of testing and iterating based on data continues to fuel the big-picture creative strategy for Lohika. BRINK now partners with Lohika as their agency of record, overseeing dozens of campaigns resulting in hundreds of leads per year.
OTHER WORK THAT MIGHT INTEREST YOU