When seeking innovative IT solutions, managed service providers (MSPs) turn to Datto. Yet Datto's disjointed digital ecosystem was difficult to navigate and made tasks that should be self-serve challenging and time-consuming. BRINK created an interactive prototype designed to transform the way Datto does business, featuring new user flows and a client activity center. To bring the prototype to life, BRINK audited and consolidated Datto's technology into a single clarifying document: a digital ecosystem map. That map helped guide the final design of Datto's NextGen platform, where UX flows and design came together in a final deliverable architected to futureproof Datto against new product releases and prime them for growth.
BRINK CEO Dan Williams was an incredible culture-first leader at the helm of an equally incredible team. Compared to traditional agencies with lengthy processes, the BRINK team was nimble and focused on time to impact (aka velocity). During our first engagement, BRINK delivered the initial scope of project within the same time frame where another agency in consideration was still in the contract negotiation."
Datto
SVP of Digital Partner Experience, Chief Digital Officer
Portal prototype systems analysis workshop
Sales and traffic priority workshop
NextGen platform design workshop
System & user flow definition
Interactive prototype design
Website navigation design
NextGen platform design system
System architecture competitive review
Website navigation recommendation
CLIENT
Datto is a technology provider that both sells solutions to managed service providers and supports them as they grow. They provide implementation guidance and 24-hour support that allows MSPs to thrive.
Datto knew they needed to improve their website CX and user journeys with intuitive flows and a fresh design. Ultimately, what they wanted was a NextGen platform that would bring cohesiveness to their digital architecture and better serve their MSP customers and could also scale appropriately as their business evolved. BRINK assisted with three separate stages to make this possible: first, a prototype for a new customer portal based on extensive discovery findings; next, the creation of a comprehensive digital ecosystem map that would serve as the cornerstone for final user flows and site architecture; finally came the NextGen platform itself, designed to feature vital new UX capabilities.
Key Challenges
Transform Datto's static directory portal into an insight-driven experience tool that uses AI to help MSPs provide better and more services to their clients
Create a portal prototype that incorporated flows for both existing and new MSP clients
Analyze a myriad of existing digital properties and touchpoints to create a digital ecosystem map
Integrate with a fellow agency to combine creative and other skillsets and bring to life final designs and user flows for the NextGen platform
Maintain flexibility to accommodate changing client priorities and organizational changes
Initially BRINK was one of several agencies considered to design a new portal prototype for Datto. BRINK quickly stood out from the pack by truly listening to client needs and desires and taking quick and decisive action. While multiple agencies remained involved, BRINK was soon trusted as the unequivocal project lead.
We wanted to improve our customer experience and journey across all digital touchpoints. More importantly, we needed a long term partner to work as an integral part of our existing team to reinvent the digital customer journey. BRINK delivered. They streamlined multiple touchpoints into a unified navigation recommendation and intuitive interactive user flows to address our business needs. The BRINK team worked as ONE with our existing team through daily standups and kept our team to a monthly executive deliverable while maintaining flexibility. As a result, the Digital Ecosystem Map, visual prototypes, and overall strategic vision that BRINK developed became a critical part of our future."
Datto
SVP of Digital Partner Experience, Chief Digital Officer
At BRINK, all clients benefit from executive accountability, authentic collaboration, and a talented team that truly immerses themselves in order to activate against growth goals with unparalleled creativity and efficiency.
To develop the portal prototype, the first step was a two-day workshop in which BRINK worked alongside Datto team members to identify potential opportunities to enhance both account and subscription management. Similarly, we facilitated two sitemap working sessions when the prototype reached phase two: the digital ecosystem map. BRINK also conducted a competitive review and worked with multiple stakeholders to gather data and analytics that were used to determine the priority and importance of each digital touchpoint.
The discovery stage made clear that two interactive prototypes needed to be developed based on two separate user flows: new partners and existing partners. A comprehensive review of all digital touchpoints resulted in a "holy grail" document to further guide Datto: the digital ecosystem map.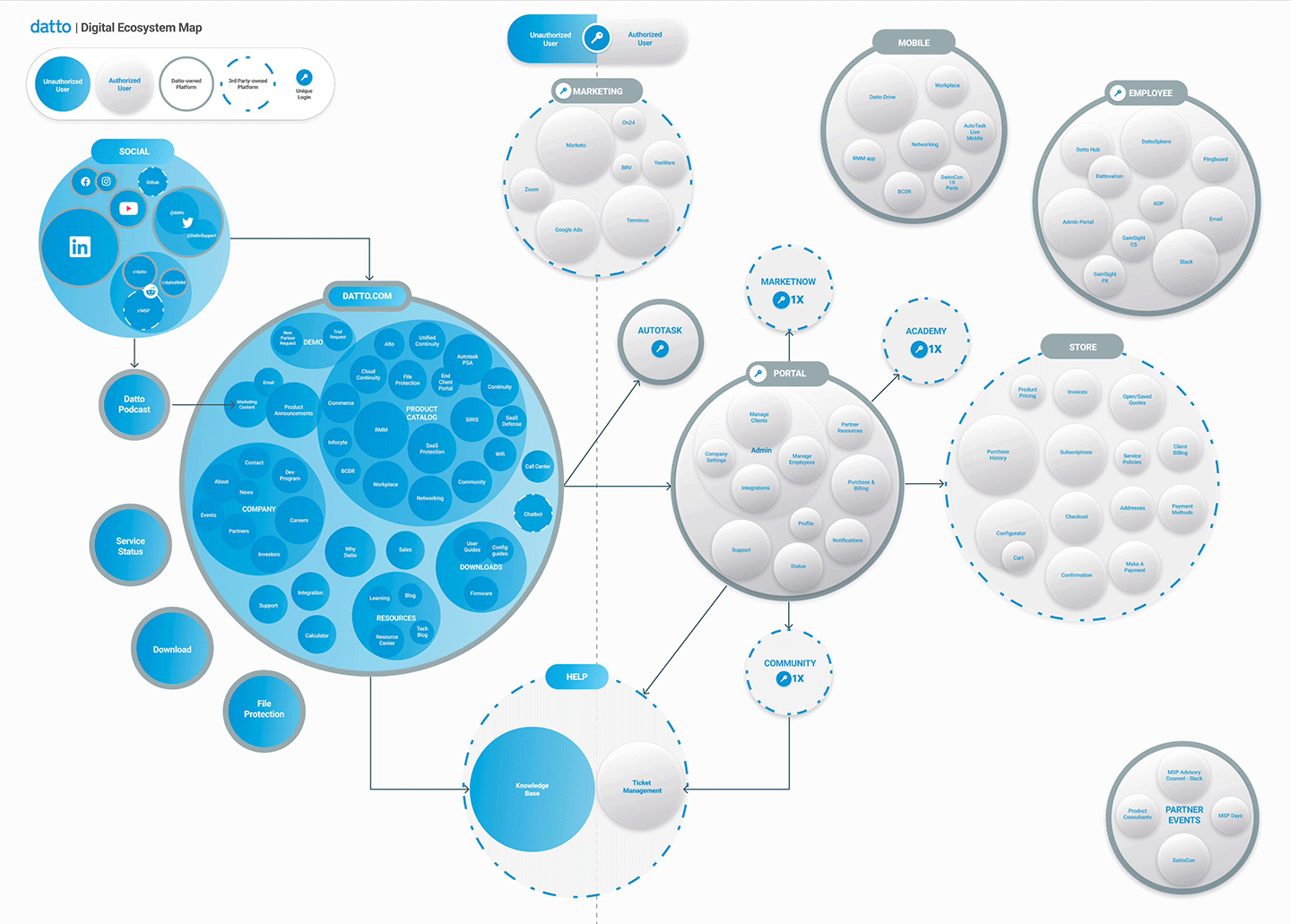 Mapping a Complex Customer Ecosystem in Preparation for Growth
The prototypes BRINK developed showed a compelling visualization of how current and prospective clients would experience the new customer portal. Meanwhile, the digital ecosystem map provided a visual representation of the priority level and flow of traffic across the entire digital landscape, including Datto-owned and third-party touchpoints. The final NextGen platform design incorporated new purchasing flows, subscription management capabilities, and a welcoming interface for MSP customers.
The NextGen design system BRINK defined will apply not just to existing digital touchpoints, but to all future touchpoints. Once deployed, the new platform will help Datto exponentially improve their service to MSPs thanks to a new architecture that supports future products and enhancements. Meanwhile, the digital ecosystem map will further aid their efforts to localize sales and support international markets.
In just five weeks, BRINK developed a prototype that became the basis for the NextGen Datto platform, while the digital ecosystem map continues to provide insight and direction to help Datto streamline and scale. Once BRINK's NextGen deliverables are implemented, the new platform will revolutionize the way Datto does business with MSP customers and accelerate new business and client retention rates as a result.
OTHER WORK THAT MIGHT INTEREST YOU